For Our Family…and Yours
Dr. Woods is, first, last and always, a story of family and enduring relationships.
First conceived by Van Woods, son of Sylvia Woods, founder of the famed Sylvia's Restaurant in New York City, and long-time friend and business partner, Gary Greenhouse, Dr. Woods is rooted in a lifetime commitment to family, community and doing what's right.
Starting with our Black Soap, a unique natural cleanser, Dr. Woods' vision was to produce high quality skin care products sourced worldwide but made right here in the United States. Products made by a small company that personally cares about what we offer to our customers. Natural products that are of the highest quality at a price nearly anyone can afford. Products that we use every day in our own family, and are proud to share with yours.
In short, we are committed to creating products that truly are "All Things Good."
Today, our product family, like our own family, has grown like the leaves and branches of the tree we use to symbolize our promise to our family and yours. A promise to provide safe, natural, cruelty-free products that are good for you and the environment. A promise to use ingredients that support the families of small farmers and producers around the world. A promise to make natural products that just plain work, at a price your family can afford.
A promise to share only those products with your family that we know are good for our family, too. Products that we love and use every day – on our kids, and our own skin, hair, and homes.
Welcome to the family.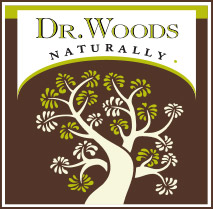 Giving Back
While we work hard to ensure that our company's daily activities reflect our commitment to responsible and caring business practices in everything we do, we believe that it is our duty and our privilege to share our success with others who can use a little help and support.
Dr. Woods supports a number of family and education – focused organizations that are dedicated to giving back to their communities and young people in need. While we often support many smaller organizations, we offer continued support to several organizations including:
This amazing organization, located in the heart of the Adirondack Mountains of upstate NY, offers camp getaways for young people living with chronic or life-threatening diseases, completely free of charge. Founded by Paul Newman and Charles R. Wood, Double H provides specialized programs and year-round support for children and families dealing with the realities of living with life-threatening illness. Whether an away-from-home summer camp experience or skiing and other snow sports in the winter months, Double H offers the chance for these kids and their families to set aside the daily challenges of their disease and simply have fun. Dr. Woods is proud to support the magic that is Double H Ranch.
At Dr. Woods, we believe education is one of the keys to lifelong success. Unfortunately, many young people in inner-city environments simply do not have access to the types of higher education opportunities that can make a major difference in their lives. The Sylvia and Herbert Woods Foundation has made the dream of college a reality for disadvantaged youth from Harlem and other inner-city areas for more than a decade. We are proud to be a supporter of this fund and its mission.
All Things Good
Here at Dr. Woods, "All Things Good" is not simply a slogan on our label, it defines each and every ingredient that we include in our soaps. And we don't stop there. All things good includes everything from where we source our products to the way they are made. Our products are certified cruelty-free and we use only sustainable, locally-produced sources wherever possible.
If it's not good enough for our family, it's not good enough for yours. It's our commitment and our promise.
By combining hard work, perseverance, and an unswerving dedication to offering only the best, Dr. Woods offers a unique line of what we believe are some of the most effective natural cleansers available today. At a price your family can afford.
Exceptional quality and incredible value? That is all things good.